December Blog: Get into the spirit this Christmas with South Aylesford Retail Park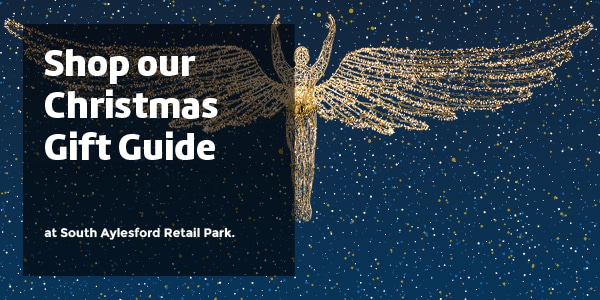 'Tis the season to start your festive shopping! We at South Aylesford Retail Park believe gifts should be as unique as the person receiving them. That's why we have created a gift guide to help you find the perfect gift for everyone on your list this year. Whoever you are searching for gifts for, you can find something for everyone at our Park! Plus, you may discover a few things to add to your own Christmas wish list whilst you are at it!
Gifts For a Foodie:
Are you looking for a food or drink-related gift? After all they are often the best types of gifts! Look no further than South Aylesford Retail Park. Whether you know a budding chef, an aspiring baker, a passionate foodie or someone who loves a handy kitchen gadget, we've got you covered this Christmas! M&S Foodhall have an amazing range of Christmas Hampers to cater to any tastebuds such as their Negroni & Nibbles Gift Box or Baking Gift Bag. If you know a caffeine addict why not treat them to a delicious blend of Costa Coffee they can enjoy from the comfort of their own home. Costa also has some gifting ideas in store including festive decorations or travel cups.
Gifts For a Home Bird:
If you are looking for a gift for an interior lover, there is lots to choose from at South Aylesford Retail Park. Whether their home décor style is colourful and bright, shabby chic or modern neutrals, get them something that'll help them enjoy their home even more than they already do. You could treat them to a colourful rug and matching cushions from Sofoloy to make their bedroom extra cosy this winter. If they prefer a more luxe vibe in their home Natuzzi is filled with all the latest interior trends including decorative ornaments and stylish wall art.
Gifts For a Tech Lover:
If the latest gizmos are what makes your person tick, you can find all the latest technology products at South Aylesford Retail Park. Even if you aren't a techie yourself, we have some great gift ideas at affordable prices that any tech lover would be happy to open on Christmas morning. If they are cuckoo for gadgets they are bound to love getting their hands on a new toy! Currys have an amazing range of smart tech gift ideas including smart gadgets for the home, wireless headphones, drones, robotics kits and much more! If they love a handy gardening tool Homebase has a variety of products from leaf blowers to pressure washers to give them a helping hand outdoors!
We hope this has given you some inspiration to get everyone ticked off your present buying list this year! South Aylesford Retail Park wishes you a very merry Christmas and a Happy New Year.
Click here to view the full list of our stores and opening times.
If you wish to receive similar content to this from South Aylesford Retail Park via email please sign up to our newsletter here.